Recent Press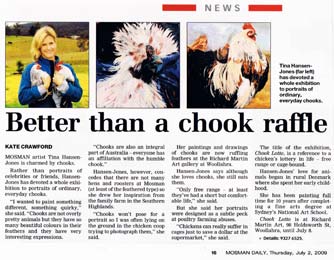 Better then a Chook Raffle
Mosman Daily
Thursday July 2, 2009
Kate Crawford

Mosman artist Tina Hansen-Jones is charmed by chooks.

Rather than portaits of celebrities or friends, Hansen-Jones has devoted a whole exhibition to portraits of ordinary everyday chooks. "i wanted to paint something quirky," she said. "Chooks are not overly pretty animals but they have so many beautiful colours in their feathers and they have very interesting expressions.

"Chooks are also an integral part of Australia - everyone has an affiliation with the humble chook"
Hansen-Jones, however, concedes that there are not many hens and roosters at Mosman (at least of the feathed type) so she drew her inspiration from the family farm in the Southern Highlands.
"Chooks won't pose for a portrait so I was often lying on the ground in the chicken coop trying to photograph them, "she said.
Her paintings and drawings of chooks are now ruffling feathers at the Richard Martin Art gallery at Woollahra.
Hansen-Jones says although she loves chooks, she still eats them. "Only free range - at least they've had a short but comfortable life." But she said her portraits were designed as a subtle peck at poultry farming abuses. "Chickens can really suffer in cages just to save a dollar at the supermarket," she said. The exhibition, Chook Lotto, is a reference to a chicken's lottery in life - free range or cage-bound.
Hansen-Jones' love for aminals began in rural Denmark where she spent her early childhood. She has been painting full time for ten years after completing a fine arts degree and Sydney's national Art School.
Chook Lotto was at Richard Martin Art, 98 Holdsworth St, Woollahra, untll July 8.
An Inspiring Image
Mosman Daily
Thursday November 10, 2005
Kate Crawford

Melbourne Cup winner Makybe Diva has helped raise much-needed funds for the Sydney Children's Hospital Foundation's Andie Kearns appeal.

A painting of the majestic mare was auctioned at the cup last week following its purchase by Mosman residents Claire and John Walters.

They have now donated the $3000 to the hospital.
The horse was painted by another Mosman resident, Tina Hansen-Jones. The Danish born visual artist said she painted predominantly figurative compositions using oil on canvas.
Ms Hansen-Jones said Mr and Mrs Walters loved their purchase and decided to auction it at their corporate marquee at the cup.
As a gesture of suport for the Kearns family, the proceeds will be given to the hospital, which is caring for Phil Kearns' 19 month old daughter Anie, who is in a serious but stable condition in intensive care.